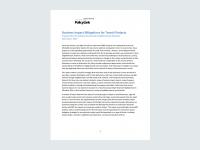 Business Impact Mitigations for Transit Projects
Across the country, new light rail and bus rapid transit (BRT) projects are creating faster and more affordable transportation options for low-income residents and people of color. In several cities, these projects are also expanding opportunities for small, local, minority-, women-, and immigrant-owned businesses to reach new customers and benefit from the streetscape and other new investments in their neighborhoods.
This report outlines successful strategies that have been used to help businesses survive and thrive in two cities—Seattle, Washington, and St. Paul, Minnesota—that have recently built extensive new light rail lines through neighborhoods rich with small, local, minority- and immigrant-owned businesses.