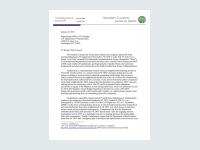 Hampton Ave Bridge Complaint Under Title VI of the Civil Rights Act of 1964 (Part 1)
The Southern Coalition for Social Justice submits this complaint against the South Carolina Department of Transportation (SC DOT) under Title VI of the Civil Rights Act of 1964 on behalf of Southernside Neighborhoods In Action.
SNIA requests that U.S. DOT's Office of Civil Rights investigate SC DOT's decision-making process for consistency with its Title VI and Environmental Justice obligations, specifically in regards to the Hampton Avenue Bridge demolition, which was announced on July 26, 2012.
The Hampton Avenue Bridge demolition is the latest in a series of SC DOT transportation decisions which restrict Southernside residents, in a discriminatory manner, from accessing and benefiting from the surrounding Greenville community.