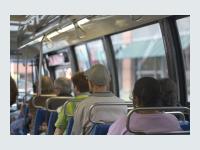 Leverage Transportation Investments to Support Fair and Inclusive Access to Jobs
Transportation infrastructure is a critical link to ensuring opportunity for all—connecting us to jobs, housing, health care, and grocery stores. Even more, transportation planning and investment decisions—what we build, where it is placed, and who builds it—are central to creating equitable communities. Local leaders are maximizing economic and social equity benefits by leveraging transportation improvements to expand access to transportation jobs for historically under-represented groups (i.e. people with disabilities, low-income communities, communities of color, and women).
In honor of 2014 Infrastructure Week, the Transportation Equity Caucus hosted a webinar on workforce inclusion in the transportation sector. Equity leaders across the country discussed how they developed and implemented local strategies that connected disadvantaged workers to quality jobs in the transportation sector, and the impact that these decisions had on creating healthy, sustainable communities of opportunity.